Writing
Paul Farmer's approach shaped our foundation and embodied the true meaning of giving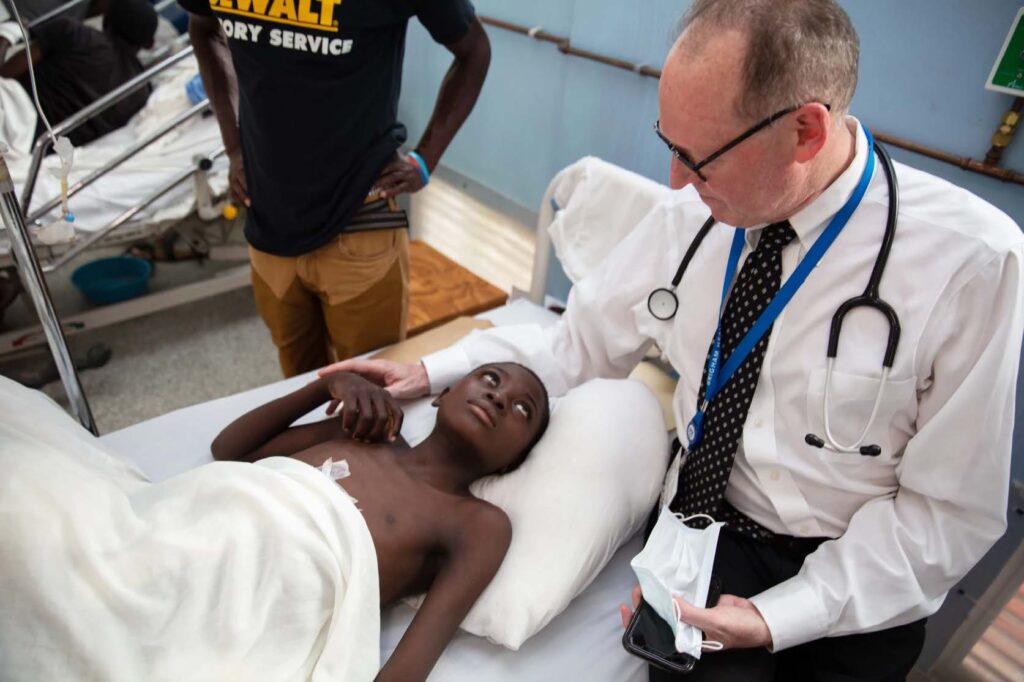 With the death last week of Paul Farmer, the world lost a living saint.
Farmer, who founded Partners in Health and provided health care and hope to impoverished people around the world, inspired our approach to philanthropy at the Schmidt Family Foundation in fundamental ways. His philosophy of what he called "accompaniment"—or the practice of literally accompanying those we are trying to help on their journey—should be a guiding principle for all of us in the field.
Farmer was not a philanthropist, but as a true lover of humanity, he embodied the meaning of the word.
He didn't just visit those he sought to help once in a while. He lived where he worked and was truly present. As philanthropy strives to work more closely with the people and communities that receive our funding, Farmer set a standard we should all follow.
Farmer was personally committed to understanding the social, economic, political and biological systems of people in societies as diverse as Haiti and Russia. Even while attending to those with the most challenging afflictions, including HIV, Ebola and tuberculosis, he didn't treat just the disease. He treated the whole person and the whole community.
Farmer was also humble. He seemed to intuitively understand that small actions taken one after another over a period of time can improve health not only for people but also for our planet and every living thing.
I was introduced to Farmer when we were starting our family foundation in 2006. Tracy Kidder's book "Mountains Beyond Mountains," which tells the story of Farmer's quest "to make the whole world his patient," became a foundational text for our organization and our thinking.
Four years later, our paths crossed again when a devastating earthquake struck Haiti. Farmer reached out to the Schmidt Family Foundation for help in restoring electricity to the community hospital in the city of Mirebalais. For us, it was an opportunity not only to respond quickly to a crisis but also to lay the groundwork for a more sustainable infrastructure.
Rather than just ask for funds to repair a fossil-fuel-driven power source, Farmer was forward thinking enough to recognize that health care and clean air go hand in hand, and we viewed both as essential human rights. His confidence in new technology and the power of human connection around the world felt familiar to me and my husband, Eric. It reminded us of the energy and optimism of our early days in Silicon Valley, where we began our careers in the 1980s. Farmer mirrored our beliefs that our work, first in technology and now in philanthropy, could change the world for the better. We immediately approved a grant to fund the installation of solar panels to power the hospital.
Walking Alongside Grantees
As our team got to know Farmer, we drew inspiration from his practice of accompaniment. As part of our annual disbursement of roughly $100 million on clean energy, healthy food systems, human rights and ocean health, our program teams spend up to a month each summer working directly with grantees. This is not to look over their shoulders, or even to walk in their shoes, but as Farmer said, to walk alongside them—to break bread with them.
We believe, as Farmer taught us, that we cannot truly understand the challenges and struggles of our grantees—of the people working every day to improve and protect the world—unless we spend time with them in their world, listening, observing, caring.
Our accompaniment program has given us a deeper understanding of the work of our grantees. We see firsthand the injustices facing neighborhoods beset by urban oil drilling. We experience what it means when a community lacks access to healthy local food or educational resources. We are more understanding when a grantee occasionally needs to shift focus or redefine goals because we have learned what they are living through. Such flexibility comes through genuine connection.
Only a few weeks ago, Farmer reached out for help to complete funding to upgrade the hospital in Mirebalais. We responded immediately, knowing how intimately he understood the needs of the community where he had lived and worked.
Paul Farmer built community spirit wherever he went, up until the night before he passed away, spending his last conscious hours sharing his extraordinary perspective and wisdom with his students in Rwanda.
Farmer was optimistic and unwavering. And most of all, he cared about the experiences of people who lacked the privileges so many of us—especially philanthropists—too often take for granted. His life is a model for what philanthropy at its best can be and a source of hope in even the darkest of times.
Wendy Schmidt is co-founder and president of the Schmidt Family Foundation and co-founder with her husband Eric of Schmidt Ocean Institute and Schmidt Futures.